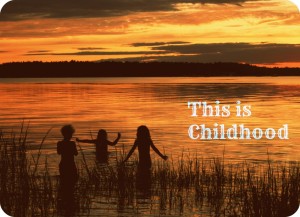 I like to think that this whole blogging universe is really nothing new or special at all; that instead, we are just continuing an oral tradition of sorts that has moved the world for a thousand years (literally). Storytellers have always been important to society. Stories — experiences that are unique, alien, and yet somehow, in some way, universal — bind people together and span the chasms between us. That is what I have found in the blogosphere and through social media: connection. In particular, I have found connection to other mothers, to other parents.
The common ground between parents is fertile and rich because we are all bearing witness to the miracles of life. We're experiencing the incredible, implausible happenstance of pregnancy, then the glory and tension of  birth and all its details. We're watching, standing by almost slack-jawed and incredulous, as our children grow before our very eyes, lengthening and broadening and losing teeth and gaining volume. Like a time-lapse video, we begin our journeys with our children in days that seem to last forever, then watch as they move into fast forward and slip by us so fast we hardly know where the years went. Suddenly, they stand close to our heights, borrow our shoes, try on our lip gloss, trot off ahead with nary a backward glance.
This, we see, is childhood. And it is fleeting.
Being the mother of four children is both a tremendous blessing and a cruel curse, because I have a vague sense of what to look forward to with my children and also a gnawing ache for what I know they have left behind at every age. My oldest is ten, my youngest just turning nine months. I am painfully aware of how blindingly fast the time will go until my baby is also ten, because in her face, I still see my oldest boy at the same age, still feel his weight on my hip, still imagine his chubby thighs against my cheek, still remember how soft his baby skin was and how sharp his new teeth felt against my thumb. He is no longer a baby, and in a blink, neither will she.
A group of us decided to try and capture a moment in our children's lives, to write a snapshot encapsulating who they are at these ages right now. Maybe you will recognize what we write. Maybe you'll remember your own child at a certain age, or maybe you'll wonder if you will see the same thing too when your child is there.
We're going to be revealing our thoughts every Tuesday for the next ten weeks, starting tomorrow. Some of my favorite writers will be joining me. I will be writing about the age of five — one of my very favorite ages — the age of my little Ben-Ben. Five is a special age. I hope I can do it justice.
On the weeks when I am not writing, I will be posting a link here to the featured writer that week. I hope you will perhaps find a new voice that resonates with you or enjoy a familiar one. In any case, I think it is going to be a bittersweet endeavor that might pause frames in our minds and allow us to remember that this is, every day, our children's childhoods. These days count.