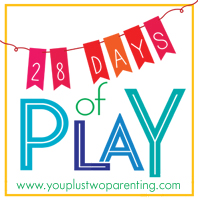 This month, I'm participating in the 28 Days of Play project over at Rachel Cedar's You Plus Two Parenting & Beyond the Basics site. Rachel asked 30+ writers to explore the idea of playing with our children –the honest truth. Do you do play with your children? Do you like to? How do you play with your kids?
It should be an interesting array of answers, and all Rachel asked was that we be honest.
Today is the kick-off for the project, starting off with a post from Dana Talusani, also known as The Kitchen Witch: Playing for Stone.
Hope you will follow along!