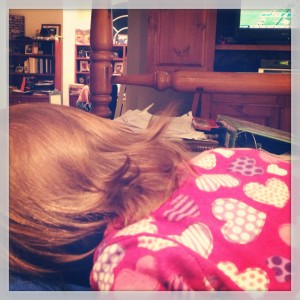 The darker days of November have set in and settled hard in our house. We are deep into our school year, just past science fair projects and dioramas, with book reports and state-mandated testing still in front of us. Holidays and parties and birthdays and the tasks and busyness of ordinary life are taking up our days so that we barely breathe.
Yet life keeps happening, busy or not — and the "busy" parts are not actually life. The boys outgrow their shoes. Their jeans don't cover their ankles, and their T-shirts don't pass the "raise your arms" test. The toddler is beginning to acquire some words (finally, just when I was starting to really worry): pizza, uh-oh, down, and her favorite, NO!
I've been on solo parent duty more than usual this fall, and I can't lie: it's tough. It's tough because just when I am reaching my daily limit of patience and energy — just when I could really use back-up and another adult to take on a bedtime ritual — I realize that I'm it. I'm the only adult available with four kids to feed, bathe, coach on homework, and put to bed. It's daunting, and all my glaring parental imperfections rise to the surface in those moments when I am strung out, touched out, exhausted and just plain done.
Last night was one of those nights. We are in the midst of never-ending, ridiculously expensive, unforeseen home renovations and repairs, and I have spent the past weeks chained to my house to contend with a parade of contractors and bad news. We have no working kitchen. I'm behind on work, and my husband was away, again, for his work. Thanksgiving looms, with all its obligations and needs, and I have an un-potty-trained puppy. I was operating at DEFCON 2 (DEFCON 1 requiring someone having a stomach virus).
I was finally drifting off to sleep around 10:30 PM when the toddler began crying out in her sleep over the monitor. I held my breath and waited, hoping she would go back to sleep, but no dice. She continued to toss and turn and cry out until the crying became continuous and increasingly agitated. Reluctantly, I went up to her. In the glow of her tiny nightlight, she stood in her crib in her too-big, red fleece footed pajamas, one pacifier in her mouth, two more in her fists, reaching out to me with desperation and determination in her glistening eyes.
I picked her up and rocked her for a few minutes, wondering what my best strategy was to get myself back to bed the fastest. I was weary. I tried returning her to her crib, but she would have none of it: she cried the kind of hysterical cries that let me know she wasn't going to calm down anytime soon. Defeated, I took her to my big, empty bed. For hours, while I dozed off and on, she rolled, she played, she punched every button on the TV remotes. I waited in vain for her to grow drowsy again.
Every once in a while, I implored, "Snuggle with Mama?" and she complied, placing her head on my chest, just over my heart. I ran my hand through her hair, combing her damp curls with my fingers. She slept with me for the first six months of her life, curled into the nooks and crooks of my body every night. Now she sleeps alone, and snuggling is less frequent. But when we do snuggle, it's always the same — her head over my heart, her feet defiantly placed on top of the quilt and never underneath, her tiny fingers sometimes holding mine.
I push myself to let it go, the relentless feeling of urgency that whispers in my ears all day long. Hurry, it says. There is never enough time. Even at night, I feel that urgency — there is only so much time to sleep before the day starts again, before I have to get up and be the adult. I grow anxious, desperate for her to sleep so I can too.
The thing is, though: babies don't keep. I can still remember lying the same way in my parents' bed, my head on my mother's chest, keeping her from sleeping and feeling the reassurance of her heartbeat. The busyness will continue; it never ends. Crises and to-do lists and appointments will always be there, but that little head won't always fit over my heart.
And that little head is my heart.